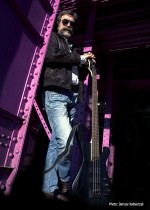 July 20, 2013
Krzysztof Ścierański at the very beginning of his musical career had been especially
interested in playing electric guitar. Jimi Hendrix, Led Zeppelin and The Beatles were the
artists who significantly influenced him. However, once upon a time, the bass player from his
older brother's band left, which turned out to be a good reason for Krzysztof to try out another
instrument, cello's younger brother- electric bass guitar.