Mats Gustafsson, one of the most important improvisers of his generation in the eyes of many critics, is coming to Krakow at the head of the twelve person orchestra. Gustafsson has played on the Krakow festival stage many times; with the saxophone, star formation, Sonore and renowned band, The Thing. This year, he is here with a select formation, not seen nor heard for almost a decade on the international scene, the NU Ensemble.
Consisting mostly of Scandinavian musicians, the formation includes renowned rhythm section Ingebrigt Haker-Flaten and Paal Nissen-Love from The Thing and tube virtuoso Per-Åke Holmlander.
The line-up is completed by distinguished guests from other countries; Austrian DJ, Dieter Kovačič (known as dieb13), Catalan pianist, Agustí Fernández, and two fine musicians from the United States representing the new generation of improvisers; trumpeter Peter Evans and saxophonist Joe McPhee, living legend on the free-jazz world scene.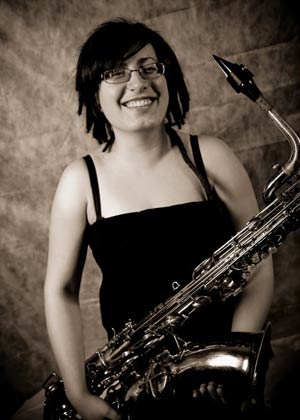 From its very inception, Krakow Jazz Autumn has not only featured stars of the international improvisation scene and provided a stage for the most interesting phenomena in this genre from around the world, but has also served as a forum at which particularly promising artists on the Polish scene have an opportunity to show what they're capable of.
Before November's big events, when the festival stage will mainly be occupied by small groups selected from Mats Gustafsson's Nu Ensemble, you are also encouraged to attend concerts by two duos that have extremely surprising instrumental lineups and musical conceptions that are unusual by any standards.
First of all, Paulina Owczarek, a baritone saxophonist familiar to Kraków's concertgoers, will be playing in a duo with another baritonist who is active in Gdańsk, Tomek Gadecki. They will be followed a day later by a Kraków-Warsaw combo comprised of Rafał Mazur on acoustic bass guitar and Dominik Strycharski on recorders and electronics.
PROGRAMME:
TUESDAY 08 OCTOBER 2013, 7 P.M., ALCHEMIA, ESTERY 5
Paulina Owaczarek (baritone sax) & Tomasz Gadecki (baritone sax) duo
Stine J. Motland – solo
Christer Bothén / Joe McPhee- duo
Jon Rune Strøm – solo
Swedish Azz – (Mats Gustafsson, Per-Åke Holmlander, Erik Carlsson, DJ Dieter Kovacic, aka dieb13, Kjell Nordeson)
WEDNESDAY 09 OCTOBER 2013, 7 P.M., ALCHEMIA, ESTERY 5
Dominik Strycharski / Rafał Mazur duo
Joe McPhee – solo
Jon Rune Strøm / Ingebrigt Håker Flaten duo
Christer Bothen – solo
EFG Trio (Peter Evans , Agustí Fernández, Mats Gustafsson)
THURSDAY, 10 OCTOBER 2013, 7 P.M., ALCHEMIA, ESTERY 5
Agustí Fernández – solo
Stine Janvin Motland / Paal Nilssen-Love / dieb13 trio
Peter Evans – solo
Christer Bothén Acoustic Ensemble
ad hoc formation
FRIDAY 11 OCTOBER 2013, 7 P.M., ALCHEMIA, ESTERY 5
dieb13 – solo
Peter Evans / Per Âke Holmlander –  duo
Kjell Nordeson – solo
The Thing & Joe McPhee
ad hoc formation
GRAND FINALE  IN MANGGHA, SATURDAY 12 OCTOBER 2013, 8 P.M., MANGGHA M. KONOPNICKIEJ 26
Peter Evans – trumpets
Mats Gustafsson – saxes, electronics and conduction
Joe Mcphee – trumpet, sax and space organ
Christer Bothén – bass clarinet and guimbri
Agusti Fernandez – piano and organ
Kjell Nordeson – vibes and drums
Stine J Motland – vocals
Dieb 13 – turntables
Per Åke Holmlander – tuba
Jon Rune Strom – bass
Ingebrigt Haaker Flaten – bass
Paal Nilssen- Love – drums