Montrealers FRANÇOIS CARRIER and MICHEL LAMBERT form one of the tightest pairs of musicians in Canada. And together they have traveled the world to meet other musicians and record sessions. In the last few years only, they have released records with Mat Maneri, Jean-Jacques Avenel, Bobo Stenson, Neil Metcalfe, John Edwards, Steve Beresford, Paul Bley, Gary Peacock, Dewey Redman and Russian pianist Alexey Lapin.
As prolific as they come, CARRIER knows how to surround himself, find the most compatible partners, and maintain a recorded presence all over the world. His rich, deep playing that blends lyricism with boldness and a sense of surpassing one's self has earned him the 13th spot on DownBeat's 2013 Best Alto Sax Players List.
A prodigious drummer, talented composer, instrument inventor, and illustrator, LAMBERT is an all-around fascinating artist. Classically trained, he has one foot in jazz, the other in free improvisation, and his head is at the confluence of all these influences.
http://www.francoiscarrier.com/index.html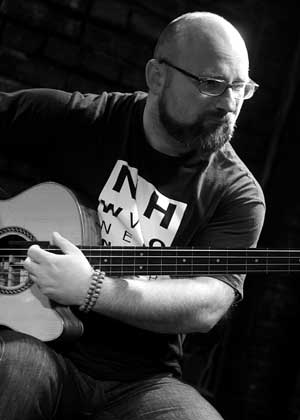 Rafal Mazur's involvement with music began in his youth with violoncello studies in Krakow.
He switched to bass guitar in the late 1980's. Since 2000 he has played an acoustic bass guitar built to his own specifications by luthier Jerzy Wysocki. He has developed an advanced and individual approach to his instrument, and to improvisation in general, in which sonority, extended technique and gesture combine effortlessly in performance.
He has taken an important role in Kraków to support young artists and improvised music. A founder of the ImproArt studio of improvisation, he has performed jazz and improvised music in clubs and festivals across Poland and Europe, and in China, South Korea and Israel. In recent years he has collaborated with Lisa Ullen, Frederic Blondy, Charlotta Hug, Raymond Strid, Keir Neuringer, Zsolt Sores and others. His current focus is the band "Ensemble 56" and "Mazur/Neuringer Duo".
He is an organizer of the Laboratory of Intuition, a series of spontaneous art presentations in Kraków. Mazur's main field of interest and activity is collective and solo free/spontaneous improvisation. In his practice as an improvising musician and on his way to mastery/artistry he studys Chinese philosophy (Jagiellonian University).
He regards Taoism as a strong base for the enrichment of the improviser's attitude, and to this end he practices the Taoist's martial art TaiJi Quan Chen. For Mazur, following the masters of Chinese philosophy and martial arts is crucial in the development of a state of mind prepared for the unexpected situations an improviser encounters in the act of collective free improvisation.
During the Polish Sound Art in China tour in 2006, Mazur presented lectures in NiHiLo Gallery in Foshan and Zendai Art Museum in Shanghai, taking the opportunity to meet Chinese improvisers and discuss and compare his approaches to improvisation, Taoism and TaiJi. Mazur's most recent work is the first album of solo acoustic bass guitar free improvisation: 'Sonor Forms'. Released by independent label DTS Records in Krakow on its Transidiomatic series, the disc is the result of investigation into the practice of solo free improvisation.
TICKETS 30 zl