"{…} What we could say, is that the almost-only-unique band of the festival, the dessert Deux Boules Vanille was the big discovery of this summer. The curiosity, the one which makes you want to dive again head forward, the head banging being not only a simple dance practice, but also the expression of an understanding much more amplified and accelerated. Two guys, two drums. And yet a full band. To paraphrase The band Le Prince Harry about their drummer, Deux Boules Vanille is a human octopus. Those guys from Lyon were in various different bands before getting together to build their own instruments; analog DIY synthesizers triggered by the drums. Dan Deacon without the voodoo curses, Soft Moon under drugs. "We'd love to do the soundtracks for an apocalyptic movie". The two friends bring a end to the old debate, machines versus acoustic instruments, by demonstrating with A + B a musician's knowledge, raw and sweaty. Deux Boules Vanille isn't playing classic old school rock, but aims for modernity, electronic – Less close to virtuosity ("We don't want people to tell us about technical performances") than dysfunctional drum machines. More Silver Apples than aspirants of the new Dave Grohl, thank you very much. "
Gonzai www.gonzai.com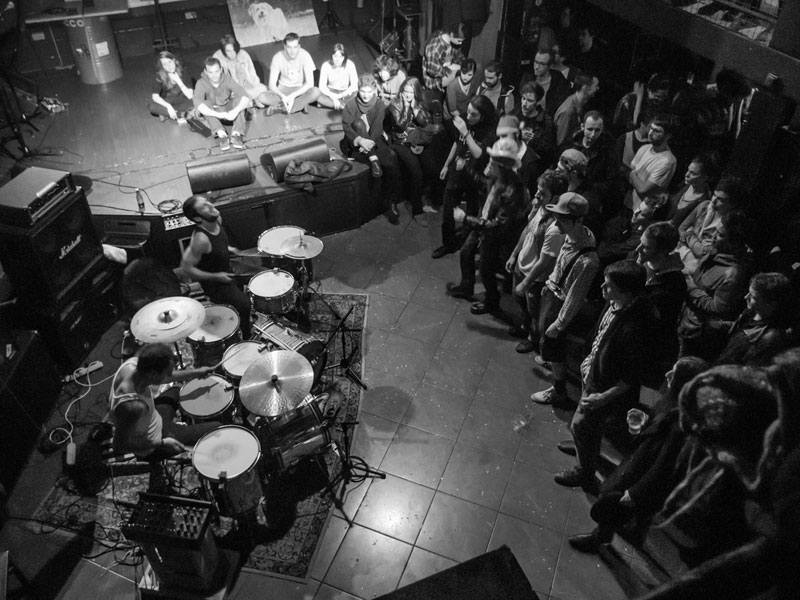 "So in just a single week actually I saw three shows that will definitely and without a doubt make my top of the year 2013 list.
The first of them was Deux Boules Vanille at bei Ruth. I had listened to them before and had kind of instantly known that this would be good live. I had watched some youtube videos, had listened to some songs and had read some stuff online and even if I had already really liked all of that, actually seeing them live was a million times better. Big Eater were the support band that evening and after they finished, the two guys from Deux Boules Vanille started carrying shitloads of equipment out of the backstage area of bei Ruth. They built their set up in front of the stage, two drum kits facing each other and being connected to a wall of amps and cabinets behind them. Both of them had some more electronic devices gathered besides their drum kits, self built analog synthesizers and some effect pedals, it all looked fascinating and weird at the same time.
Without a real soundcheck they started to play and I was instantly blown away. They triggered the synthesizers with their drums, creating melodies and harmonies accompanied by driving drum sounds. Stylistically this was a crazy ride through so many genres that at the end I was not sure whether I had just attended an electro-party or a Lightning Bolt show. They definitely referred to some early 70s electronica in the vein of Silver Apples, then switched to frantic grind-core influenced parts just to end with something that was so rhythmic and pulsating that it somehow sounded rather technoid. Their whole set was a highly energetic and highly entertaining outburst of joy and the unfortunately rather small audience went kind of crazy. I really truly hope these guys will be back some time soon, this was an awful lot of fun."
"Berlin Craze", about a Berlin show in Bei Ruth (www.bei-ruth.de) in may 2013.